Music Releases 09-01-23
Atta [Indie Exclusive Limited Edition Yellow 2LP]
$36.98 41.98
Following it's surprise digital release, Sigur Rós' first new studio album in ten years, ÁTTA, is their most intimate and emotionally direct record to date. Few bands cut through the noise and distractions of the world to bring you a pure elemental truth or feeling like Sigur Rós. As you hear on ÁTTA, there's a new compulsion and drive to the band that comes with the new formation of the line up. Multi-instrumentalist Kjartan Sveinsson is back in the fold – having left the band in 2012 – to join frontman Jónsi and bassist Georg Holm. Recorded across multiple continents - in the band's Sundlaugin studio in Iceland, the legendary Abbey Road in the UK and a number of studios in the US - ÁTTA leans heavily towards the orchestral, and touches on everything that has made Sigur Rós one of the most ambitious and acclaimed bands of recent times, with close to ten million albums sold, whilst signposting an exciting and expansive possibility for their future. ÁTTA prominently features the London Contemporary Orchestra conducted by Robert Ames, alongside brass performed by longtime Icelandic collaborators Brassgat í bala. It is mixed and co-produced by another frequent collaborator Paul Corley, alongside the band."
Back To The Water Below [Indie Exclusive Limited Edition Clear LP]
$24.98 24.98
Royal Blood ignite an epic summer ahead as they announce the September 1st release of their fourth album 'Back To The Water Below'.
From the very beginning, Royal Blood's story has been one of two life-long friends whose shared passion and dedication for writing and performing has led them on a remarkable adventure together – a story that has yet to be repeated, and is a feat as rare as it is remarkable. Long before Royal Blood were even formed, they spent years together in various bands playing to half empty bars around Brighton - and only then did they suddenly become a decade-in-the-making overnight success story. One day they were plotting how to recoup the meagre £300 they had spent on their first recording, but within a year they were at the top of UK album charts, storming Glastonbury and winning the BRIT Award for Best British Group.
At The Roadhouse [2LP]
$34.98 39.98
Wide-spine two-pocket Gatefold jacket, 2x Printed innersleeves. 2x Heavy 180g vinyl (1x "Sunset Burst", 1x "Cadillac Blue"). Australian indie folk rock band The Paper Kites release their highly anticipated sixth album - At The Roadhouse. The song and production background began when the band created a roadhouse in rural Australia, performing an unannounced month-long residency in the small Victorian town of Campbells Creek, whilst working on their sixth record. The atmosphere of the live performance is recreated with pedal steel and crooning vocals and harmonies. The song lyrics reminisce of a romance still as alive as a blue flame. "We had talked about this for years" Sam Bentley explains, "We were drawn to the idea of holding up in a town somewhere and playing the evenings as a house band. The Roadhouse became this place for us." Expanding their line-up, the five members of The Paper Kites recruited three extra musicians to make up their roadhouse band, including multi-instrumentalist Matt Dixon - who's weeping pedal steel features on the track - as well as Hannah Cameron and Chris Panousakis.
Odeon Budokan [LP]
$29.98 34.98
A live album recorded in 1976 during a tour with Crazy Horse. Side A is Neil Young solo acoustic from Hammersmith Odeon, London; on Side B, Neil is joined by Crazy Horse at The Budokan in Tokyo. 10 amazing performances of classic Neil Young songs, including the rare "Stringman". This album is included on CD in Neil's Archives Volume II, but this is the debut release on vinyl. 1 LP – 140g black vinyl.
A Sailor's Guide to Earth [Clear LP]
$24.98 24.98
The alt-country understated star's Grammy-Award winning album features lead single "Brace for Impact (Live a Little)", a track that also boasts an enigmatic music video which includes, among other visuals, and hot rod coffin, a cover of Nivana's "In Bloom", and the orchestrally enhanced "Breakers Roar." A respected and celebrated record, it has received a score of 86 from metacritic signalling "universal acclaim."
SICK! [Indie Exclusive Limited Edition Light Blue LP]
$27.98 32.98
SICK is my humble offering of 10 songs recorded in the wake of the worldwide coronavirus pandemic and its subsequent lockdowns. before the virus i had been working on an album i named after a book i used to read with my mother (the people could fly). once the lockdowns hit, people couldnt fly anymore. a wise man said art imitates life. people were sick. The People were angry and isolated and restless. i leaned into the chaos cause it was apparent that it wasnt going anywhere. these songs are what happened when i would come up for air. peace and love to zelooperz the enigma, the armand hammer, and my good friends alchemist and black noi$e. peace and love to u
everything is alive [Crystal Clear LP]
$25.98 25.98
everything is alive, Slowdive's 5th record, is exactly what the title suggests: an exploration into the shimmering nature of life and the universal touch points within it. 

While there are parts of this record that could sit neatly next to the atmospheric quality of 1995's Pygmalion; everything is alive also manages to break down the boundaries of what's come before it. Spanning psychedelic soundscapes, pulsating 80's electronic elements and John Cale inspired journeys, the album lands immediately as something made for 2023 and beyond. 

For a genre that is often thought of as divisive, and often warrants introspection, here Slowdive show their craft as the masters of it by pushing it outwards, beyond the singular; the end result being a record which feels as emotional and cathartic as it is hopeful.
Battle Maximus: 10th Anniversary Edition [Crystal Blue with Dark Blue Swirl LP]
$33.98 38.98
Remixed, Remastered and featuring the final unreleased song from the late Oderus Urungus
The final album of GWAR founder and lead singer Oderus Urungus has been remixed and remastered for this release. It also includes the song "Tammy, The Swine Queen" which is his final recording and has never before been released. The LP includes a limited edition embossed cover with new art throughout including behind the scenes photos from this time period and a Listeners Guide that details the story of the album.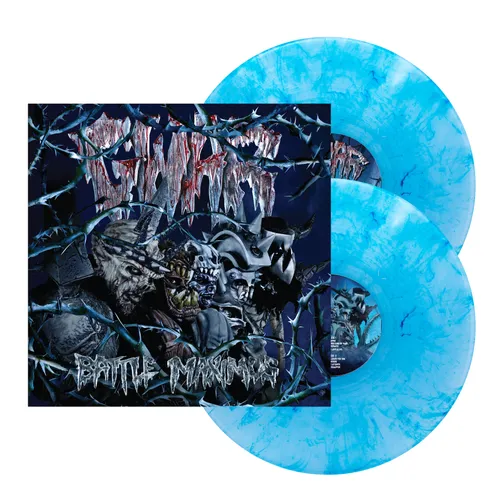 Tomorrow Is The Question! (Contemporary Records Acoustic Sounds Series) [LP]
$29.98 34.98
Contemporary Records Acoustic Sounds Series presents this 180-gram LP edition of Ornette Coleman's second album Tomorrow Is The Question!. First released in 1959 and recorded by legendary engineer Roy DuNann, the album also features Don Cherry, Percy Heath, Shelly Manne and Red Mitchell. This new edition features ALL-ANALOG mastering from the original analog tapes by Bernie Grundman and is pressed at QRP and presented in a tip-on jacket.


DRUMMER [Clear LP]
$34.98 39.98
G Flip is a drummer, singer, songwriter and producer that is cutting through the masses with their rebellious and refreshing sound and identity. Born in Melbourne, the pop/rock non-binary icon returns with their second LP, DRUMMER. G co-wrote and co-produced every track, creating an album straight from their heart. Hailed by singles "Be Your Man" and "The Worst Person Alive," DRUMMER reveals G Flip's heightened songwriting, musical genius and rare balance of precision and abandon. Clear LP.


Kings Of The Asylum [Purple LP]
$29.98 34.98
After multiple globally acclaimed releases, the third album by legendary MOTÖRHEAD guitarist Phil Campbell and his band comprised of his sons and new singer Joel Peters, features 11 songs to rock out and sing along to on the band's extensive European Tour from September to November 2023. Purple LP, Gatefold


Eastwood Symphonic [LP]
$44.98 49.98
Eastwood Symphonic is a tribute from Kyle Eastwood to his father Clint Eastwood. It takes the form of a contemporary musical walk into the heart of the legendary actor-director's extraordinary career. As a young man, Kyle Eastwood appeared in a few films made by his father, but what has united them above all else is their mutual passion for music. It is precisely that passion, so dear to Clint and such an everyday part of Kyle's life today, which has bound their relationship so closely over the years. As bassist and frontman of a sparkling jazz quintet, he has already released one album, 2009's Cinematic, that takes up themes written for the silver screen. For Eastwood Symphonic, which fully embraces some of the music that has figured so prominently in his father's films, Kyle has chosen to have his quintet join by the Czech National Symphony Orchestra (CNSO) led by Grammy Award-winning conductor, Gast Waltzing. This family collaboration is a unique album that comes alongside a film produced by Arte.


E3 [Translucent Cobalt LP]
$29.99 34.99
The songs of midwxst feel like beacons in a tempest - a blend of rap, rock and whatever else he needs to bottle up the exact feeling in his heart. And on his debut album, E3, it is on prime display. Co-executive produced by midwxst and Sophie Gray, it's a tightly wound concept record and an intricate painting of love and relationships that midwxst hopes will guide listeners in a deeper way than anything he's done before. Translucent Cobalt LP.


VIEW COMPLETE LIST
Music Releases 09-08-23
GUTS [Indie Exclusive Limited Edition Lavender LP]
$29.99 34.99
3-time GRAMMY® award winning recording artist olivia rodrigo will release her new album, GUTS, on september 8th via geffen records. available to pre-order now.

GUTS was recorded with producer daniel nigro, who also collaborated with her on SOUR, her chart-topping, 4x platinum debut album.

"for me, this album is about growing pains and about trying to figure out who I am at this point in my life and exactly what I want to say in my songs."
Rustin' in the Rain [Indie Exclusive Limited Edition Green Blend LP]
$23.98 27.98
Rustin' in the Rain is the eagerly anticipated new album from singer-songwriter Tyler Childers. This collection of new songs is Childers' sixth studio album, and the follow up to his critically acclaimed release Can I Take My Hounds to Heaven?. 

Rustin' in the Rain is produced by Childers alongside his longtime band The Food Stamps, and the album features the heartfelt single "In Your Love," which Tyler first teased to fans earlier in 2023 during his Bonnaroo Music Festival performance.
Bird Machine [Indie Exclusive Limited Edition Opaque White LP]
$25.98 25.98
Opaque White Standard LP (indie exclusive). ANTI- Records is honored to share a never-before-heard album by Mark Linkous of Sparklehorse titled 'Bird Machine.' Originally recorded in 2010 and mixed by Mark Hamilton (who also worked on 'It's A Wonderful Life'), Mark's brother Matt notes "great care has been taken to archive and preserve Mark's music. We are very thankful for Mark and the beauty he brought to this world."Sparklehorse was an American indie rock band formed by singer-songwriter and multi-instrumentalist Mark Linkous in the mid-1990s. Born on September 9, 1962, in Arlington, Virginia, Linkous began playing music as a teenager.Described as an artist who "compelled listeners to heed the beauty of darkness" by Pitchfork, Sparklehorse released many influential records, including the renowned albums 'Vivadixiesubmarinetransmissionplot' and 'Good Morning Spider' in the '90s, 'It's A Wonderful Life' and 'Dreamt for Light Years in the Belly of a Mountain' in the early aughts, and a collaborative album 'Dark Night of the Soul' released in 2010.Throughout his career Mark collaborated with thought provoking artists like Vic Chesnutt, Daniel Johnston, Tom Waits, Danger Mouse, and David Lynch.While Mark recorded in various studios, collaborating with other musicians and producers, he did much of his work in his home studio, Static King, often playing and recording everything on his own. He was "very much kind of a working-class guy with a very poetic sensibility, who was drawn to artists like himself, who worked in isolation, " said NPR Fresh Air's Ken Tucker.Sadly, Linkous struggled with drug addiction and depression throughout his life, and despite his untimely death, his music continues to be highly regarded and influential in the indie rock and alternative music scenes.


Everything Will Change [Lavender/Blue LP]
$30.98 35.98
Everything Will Change is the new live album by indie-pop legends The Postal Service. The album documents The Postal Service's performance at the Greek Theater in Berkeley, CA during their 2013 reunion tour. (The same show was featured in the 2014 feature-length documentary concert film of the same title.) This is the first time the show has been released on CD and vinyl, and the album features "Never Enough Time," which did not appear in the original video release. A collaboration between Benjamin Gibbard (of Death Cab for Cutie) and Jimmy Tamborello (from Dntel), with Rilo Kiley's Jenny Lewis, The Postal Service released Give Up, their one and only album, in 2003. That record went on to sell over a million copies and most of the band's fans never had the chance to see them perform live. In celebration of the 10-year anniversary of Give Up, the band reunited to tour the world. Everything Will Change captures one of the nights when everything did change.


Slow Burn [Splatter LP]
$28.98 33.98
Splatter Vinyl. Mascot Records is proud to announce the new album from Conquer Divide called, 'Slow Burn'. 'Slow Burn' ushers in a new era for Conquer Divide, one defined by breathtaking sonic refinement, intensely personal lyrical storytelling, and a seamless balance between hard-hitting modern metal and irresistible melody. On this record, the band taps into a broader sound, walking a well-executed, genre-defying tightrope between pop, rock, and metal without sacrificing what they do best: writing compelling songs. "This album doesn't have any skips on it. I think every song is powerful and important," says vocalist Kiarely Taylor. "Every song has something everyone can relate to, and each of them is unique." Conquer Divide's Mascot Records debut, 'Slow Burn'.


Hello Nasty: 25th Anniversary [Limited Edition Deluxe 4LP]
$124.98 124.98
Celebrating the 25th Anniversary of Beastie Boys' multiplatinum Hello Nasty album, this deluxe vinyl reissue is a rare version of the album that was released as a limited run in 2009. It includes two additional LPs with 21 bonus tracks (remixes, B-sides, rarities) and features the singles "Intergalactic" (certified platinum), "Body Movin'" and "The Negotiation Limerick File." Co-produced by Beastie Boys and Mario Caldato Jr., it's a record that embraces a kaleidoscope of musical influences, with hat-tips to Latin psych-rock, Brazilian samba, jazz-funk, dub, post-punk and an impressive collection of collaborators ranging from reggae vagabond Lee "Scratch" Perry to Cibo Matto's Miho Hatori. Pressed on 180g vinyl, this Deluxe 4 LP boxset is housed in a hardcover slipcase and includes a removable sew-on patch. Limited Edition.
Canciones de mi Padre [2023 Reissue LP]
$26.98 31.98
There are times when an artist transcends the form. When the spirit of music goes beyond embodying sound. 1987 saw the release of Linda Ronstadt's groundbreaking love letter to her family soul and lifeblood - Canciones de mi Padre.

Selling over 10 million copies and celebrated by music lovers across the globe, and here at home by both Grammy's and the Library of Congress, Linda Ronstadt brought the most beautiful and timeless Spanish melodies back into homes in a loving reunion as well as coloring new rooms where these songs, bright as the day, suddenly rang out.

New connections celebrating beauty, language, and roots. Even today - especially today - the sound of Canciones de mi Padre links the then to the now and onward.
End of the Day (music from the film Anonymous Club) [Milky Clear LP]
$31.98 36.98
Anonymous Club is Danny Cohen's candid documentary about the personal travails and hard-fought triumphs of Courtney Barnett, as she rose through the ranks of indie rock during the last decade. A cautiously redemptive portrait, any happy ending reflects the possibilities of fulfillment and stability, not the things themselves. In May 2021, months before the film's release, Courtney Barnett and collaborator Stella Mozgawa rendezvoused with Cohen in Melbourne to shape a score that fit that premise—nothing too obvious or instructive, to tell the audience how they should feel. Barnett found she liked listening to what the duo had made, existing within its reflective gaze. She began sorting through those little instrumentals like amoebic puzzle pieces, figuring out how they fit into a full picture. The result is a seamless series of 17 instrumental improvisations called End of the Day: Music from the Film 'Anonymous Club', soundtrack reimagined as impressionistic sound-art collage. Like Barnett's rock songs, they wordlessly ask hard questions of our softest parts, wondering what it is we really find there.
Golden State [Indie Exclusive Limited Edition Olive Green LP]
$24.98 24.98
Golden State, the second full-length from singer/songwriter Logan Ledger, marks a stylistic departure from the timeless country noir of Ledger's critically lauded debut. This time around, Ledger worked with producer Shooter Jennings, dreaming up a lush and spirited sound partly inspired by the California country-rock scene of the late-'60s and early-'70s. The result is a sublime setting for Ledger's layered meditations on loss and despair and the search for transcendence.
Morning Shift [Limited Edition Translucent Orange LP]
$28.98 33.98
Steep Canyon Rangers, Asheville, North Carolina's GRAMMY Award-winning bluegrass outfit, are back with their forthcoming album Morning Shift, produced by Darrell Scott (Robert Plant, Sam Bush, Emmylou Harris). The album marks the band's first since the departure of lead vocalist and founding member Woody Platt. The Rangers have added acclaimed singer-songwriter Aaron Burdett as an official member of the band, bringing new ideas and harmonies to the sextet's ever-evolving sound. The album was recorded over a weeklong period at the Inn Bat Cave, a legendary spot that used to be Lynyrd Skynyrd's old hideout. The first edition vinyl LP of Morning Shift is pressed on translucent orange vinyl and limited to 1,000 copies worldwide.


The Loveliest Time [Milky White LP]
$29.99 34.99
The Loveliest Time is the follow-up to 2022's The Loneliest Time, which continues in Jepsen's tradition of coupled releases — but this time they're not so much B-sides as they are a second chapter. While The Loneliest Time was born from a period of isolation and self-discovery, The Loveliest Time is a celebration of that growth. Featuring shimmering lead single Shy Boy, The Loveliest Time is Jepsen at her most experimental and intimate to date. Available on Milky White LP.
Black Classical Music [Indie Exclusive Limited Edition White 2LP]
$34.98 39.98
Black Classical Music, the first official solo release of the acclaimed UK drummer, Yussef Dayes. Across 19 tracks, it melds the spirit of everything from 70s funk, reggae and Senegalese percussion while simultaneously nodding to furious dancefloor pacings of the soundsystem continuum. At every turn, Yussef's distinctive drum licks and Rocco Palladino's bass are the sturdy anchors; aided by Charlie Stacey/Elijah Fox (keys/synths), Venna (saxophone) and a whole host of honorable features including: Chronixx, Jamilah Barry, Tom Misch, Shabaka Hutchings, Miles James, Sheila Maurice Grey, Nathaniel Cross, Theon Cross and the Chineke! Orchestra, the first professional orchestra in Europe to be made up of majority Black and ethnically diverse musicians.

Yussef Dayes' rise can be first linked to the short lived duo Yussef Kamaal, with keyboardist Kamaal Williams who released one album Black Focus, in 2016.  2019/2020 birthed two EPs and one album within close proximity: Blackfriars, and Duality, and sandwiched in between, What Kinda Music, a collaboration with Tom Misch. Since then, his list of collaborators has blossomed to include an official remix of Pa Salieu's "Frontline", drums on "Motor City Madness (People Mover Remix)" for Waajeed, and on Wizkid's "Made In Lagos" album, plus production for Kali Uchis ("Blue") and Kehlani ("Hate The Club") and 2022's joint release with Soulection entitled Live At Joshua Tree.
Suburban Legend [Golden Yellow LP]
$24.98 24.98
As a band, Taryn and Austin's journey happened both unexpectedly and fortuitously. At the start of the COVID pandemic, Austin and his wife moved back into his parents' house, where Taryn was also living at the time. Faced with nothing but time, he got back to songwriting, regularly asking Taryn for input — or as the two playfully put it, "Gen Z quality control.

"The immediate result of their musical partnership was the pop-punk/alternative anthem "Who's Laughing Now," which leads with wry, tongue-in-cheek lyrics about the futility of young adulthood in 2023. After posting an unfinished version of "Who's Laughing Now" on TikTok, it swiftly took off, galvanizing thousands of viewers who shared their coming-of-age frustrations. Clearly, the song's sentiments - which land somewhere between a shrug and a clenched fist - resonated with millions of listeners, and today Durry have recorded a fully fleshed-out version of "Who's Laughing Now," which is set to appear on their riveting, perfectly sardonic debut LP, Suburban Legend.

Whether Suburban Legend is tackling romantic love, late-stage capitalism, mental health woes, or teen nostalgia, the thread tying it all together is its utter relatability. Regardless of where you are in life — city or suburbs, school or work, or pursuing a creative dream of your own — Durry will meet you there with a wink and a high five.
Heart on Ice
$11.99 14.99
Jon Langston will be releasing his debut solo album, Heart On Ice, in September 2023. The album will feature 14 songs including "Whiskey Does" and  "Ain't No Cowboy." He picked up his guitar – untouched since eighth grade – and re-taught himself how to play. Performing at open mic nights and honing his songwriting led to the 2013 release of "Forever Girl," the first song he ever wrote, which is now certified GOLD by the RIAA. That release kicked off his music career, culminating in sold out shows across the country and over 500 million career streams. Langston signed a publishing deal with Sony ATV, management with KP Entertainment, and is the first artist signed under Luke Bryan's label 32 Bridge Entertainment with EMI Records Nashville.
Killer In Stereo: Good Rockin' Tonight [RSD Essential Indie Colorway Milky Clear w/Black Ice Splatter LP]
$34.99 39.99
Indie Exclusive * From the rock and roll revolutionary responsible for hits like "Great Balls of Fire" and "Whole Lotta Shakin' Going On" comes a collection of remastered rare stereo mixes from the Sun Records archive. Jerry Lee Lewis, considered one of the last standing original rock and roll stars when he passed away in 2022, rocks and rolls his way through multi-track takes of songs like "Money" and "Ramblin' Rose," featuring his versions of hits like "What'd I Say" and "Be Bop A Lula."


Reasons Why [LP]
$28.98 33.98
Ariel Posen's music occupies the space between genres. It's a rootsy sound that nods to his influences — heartland rock & roll, electrified Americana, blue-eyed soul, R&B, Beatles-inspired pop — while still moving forward, pushing Posen into territory that's uniquely his own. Posen seeks answers on why we are the way we are with new album 'Reasons Why' - This serves as a look into how an event or a relationship can alter someone's train of thought. The internationally known Canadian rocker wrote this new reflective album coming out of half a year of lockdown and was extremely inspired creatively, 30 songs turned into a batch of 10 tracks for the new album and were recorded in Winnipeg, Manitoba and Montreal, Quebec.
Eat the Worm [2LP]
$36.98 41.98
Eat the Worm - Jonathan Wilson - Wilson, a North Carolina native, moved to Los Angeles 15 years ago and became an integral part of the music community as a respected artist and producer. It was there he recorded and played most of the instruments on his celebrated albums Gentle Spirit (2011), Fanfare (2013), and Rare Birds (2018). Just prior to the pandemic, the multi-talented artist went to Nashville to record at Cowboy Jack Clement's legendary Sound Emporium Studio for what would become Dixie Blur (2020), a collection of songs that harkened back to his Southern roots, both musically and personally. Dixie Blur found Wilson reaching back to the musical foundation of his upbringing while simultaneously moving forward by infusing the music with modern textures and aesthetic soundscapes.


Fountain Baby [Silver LP]
$32.99 37.99
Platinum-selling Ghanaian-American artist Amaarae, releases her highly anticipated new album, Fountain Baby, via Interscope Records. A striking global pop offering, Fountain Baby houses a collection of insatiable tracks that exist at the intersection of female empowerment, subversion of gender norms and a thrilling exploration of female sexuality and artistic self-expression – all while centering her West African heritage within a global lens. The project sees Amaarae's towering talent and visions expanding beyond genre and regional confines, for a truly brilliant and palpable body of work that will establish her as an essential architect in the future of music.
Live At The Whisky A Go Go [Limited Edition Coke Bottle Green 2LP]
$41.99 46.99
Limited Edition (3000 Units), 180g Heavyweight 2 LP Coke Bottle Green Vinyl In Gatefold Packaging.  "It's Art and Everclear At Their Raw, Powerful and Emotional Best."  Matt Pinfield.  Everclear Live At The Whisky A Go Go.  Recorded in December 2022, authorized by the band and celebrating their 30th Anniversary.   Featuring all their Greatest Hits plus two new studio tracks, the single "Sing Away" and "Year Of The Tiger."
Careful! [Limited Edition Smog LP]
$24.98 24.98
Limited Loser Edition on smog vinyl. You can't get Deeper if you're standing still. That's intentional, says the Chicago quartet's Nic Gohl. "Does it feel good when you're listening to this song? Does your body want to move with it?" These are the questions he asked himself as he and bandmates Shiraz Bhatti, Drew McBride, and Kevin Fairbairn were writing and recording Careful!, their third record and Sub Pop debut. "I wanted these to be interesting songs, but in a way where a two-year-old would vibe out to it," Gohl adds. "It's pop music, basically." On Careful!, they're not reimagining their sound so much as testing it's limits. If you want to, you can hear echoes of David Bowie's Low in the snapping rhythm and gray-sky synths of "Tele," but you can also hear a bit of Auto-Pain in the nailed-in, stippling lines of Bhatti's drum programming and McBride's synthesizer. That fraternal interdependence is near the center of Deeper's music. As McBride ultimately frames it, "Careful! Is about looking out for one another."


Live in Las Vegas 1963 [RSD Essential Indie 2LP]
$32.99 37.99
This remarkable recording sees its first ever vinyl press. An unissued performance by one of the true jazz giants, Dizzy Gillespie. At the time of this recording, Gillespie was close to the halfway point of his career and very much in his musical prime. The quintet featured here began to form when saxophonist Leo Wright joined Gillespie in 1959 and pianist Lalo Schifrin was hired the following year. Bassist Chris White and drummer Rudy Collins became members in 1962. Recorded at the Las Vegas Convention Center, the group explores some of Gillespie's finest and most famous originals, including 'Con Alma' and 'A Night in Tunisia'. Those famous trumpet breaks will not disappoint. A true stereo recording, transferred from the original analogue tapes. Pressed on heavyweight virgin vinyl. 


Lauren Daigle [Bone 2LP]
$34.98 39.98
Two-time GRAMMY® Award-winning singer-songwriter Lauren Daigle announces her highly-anticipated complete 23-track, self-titled album, Lauren Daigle. The full body of work will arrive Friday, September 8, 2023, showcasing the multi-faceted artist's stunning and powerful voice, rich storytelling, and incredible musicality, and including standout songs "Salvation Mountain," featuring Gary Clark Jr. as well as "Be Okay" which was written with Ellie Holcomb and will be released ahead of the album on August 4th.
 
Says Daigle:
 
"In May, I released the first 10 songs from my self-titled album. It had been a while since I had put out new music, so I wanted to share these songs as soon as they were ready to go. This is just the beginning of the journey to the complete story of the 23-song album, which I am excited to announce is coming out September 8. These 23 tracks represent all that I am – they embody my soul and my spirit. I can't wait for you all to hear them."
 
 
With over a billion streams and years of sold-out US and international tours to her name, Lauren Daigle continues to cement her status as a modern vocal powerhouse with a global, ever-growing fanbase.
Placelessness [LP]
$24.98 24.98
Following nearly 20 years of working together as a trio, and numerous cross-collaborations in different configuration between them, Ideologic Organ presents Placelessness, the debut full-length by Chris Abrahams, Oren Ambarchi, and Robbie Avenaim, comprising two long-form works at juncture of ambient music, minimalism, rigorous experimentalism and improvisation, and machine music. 

Having carved distinct pathways across a diverse number of musical idioms for decades, Chris Abrahams, Oren Ambarchi, and Robbie Avenaim are each, respectively, among the most noteworthy and groundbreaking figures to have emerged from Australia's thriving experimental music scene.
VIEW COMPLETE LIST
Music Releases 09-15-23
Michael [Indie Exclusive Limited Edition Metallic Gold 2LP]
$32.99 37.99
Killer Mike's MICHAEL marks the celebrated MC's first solo project since 2012's R.A.P. Music. MICHAEL introduces the world to the totality of Michael Render, a lifelong rap fiend whose consciousness is steeped in the sounds of community that raised him – multiple eras of southern rap flows, Sunday church service and barbershop discourse. A 14-track album produced by No ID featuring the likes of Future, Young Thug, Ty Dolla $ign, Curren$y, André 3000, 6LACK, EL-P, Blxst, Eryn Allen Kane and more! 2 LP set includes a 24" x 12" pull-out insert.
STONE [Indie Exclusive Limited Edition Ruby Red LP]
$26.98 31.98
The indie exclusive of STONE LP is a ruby red LP housed in a heavyweight printed inner sleeve inside of a spot UV gatefold jacket with black flood and a four-panel lyric booklet. All artwork by John Dyer Baizley. Produced by Baroness, mixed by Joe Barresi, mastered by Bob Ludwig at Gateway Mastering. Only available at independent record stores.

Grammy-award nominated heavy rock outfit Baroness mark their much-anticipated return with new album, STONE. Their sixth record overall and third released via Abraxan Hymns, STONE finds the Philadelphia-based quartet of John Baizley (guitars/vocals/illustration), Gina Gleason (guitars), Nick Jost (bass), and Sebastian Thomson (drums) streamlining the momentous multi-genre vocabulary of its critically-acclaimed predecessor Gold & Grey (2019). This is still very much Baroness—just refocused for efficiency and rethought as a consequence of stability. STONE's most prominent tracks, "Last Word," "Beneath the Rose," "Shine," and "Anodyne," reflect thoughtfully, groove deeply, and refract tumult effortlessly. They, of course, rock.
J50: The Evolution of the Joker [Super Deluxe Edition 3LP + 7in]
$179.98 179.98
Celebrate the 50th anniversary of The Joker. J50: The Evolution of The Joker, curated by Steve Miller, highlights 27 previously unreleased demos, live performances, studio outtakes and rehearsals from Miller's personal archive, including 8 never-before heard songs. Miller also provides narration guiding the "evolution" of the songs from The Joker.
The box set features a lenticular cover, 60-page book with liner notes from both Steve Miller & Anthony DeCurtis, a reproduction of a vintage Joker iron-on and a new Joker lithograph.

Also Available 2CD, Super Deluxe Edition 3LP + 7in, Indie Exclusive Limited Edition Gold LP
Snow Angel [Indie Exclusive Limited Edition Translucent Coke Bottle Clear LP]
$29.99 34.99
Reneé Rapp's debut album Snow Angel kicks off her new era of music by putting her heart on full display as she continues to round out her already multi-dimensional artistry. Executive produced by Alexander 23, the album captures Rapp's ability to unabashedly speak her truth, whether it's through emotional ballads or infectious pop hits. In just a year, Reneé has already sold out shows nationwide while netting hundreds of millions of streams, making Snow Angel one of the most anticipated albums of the year. Indie Exclusive Translucent Coke Bottle Clear LP.


Brothers Osborne [Indie Exclusive Limited Edition White LP]
$27.98 32.98
Current CMA and ACM Duo Of The Year, Brothers Osborne will release their 4th studio album on September 15, 2023. This Grammy-winning duo's new album features 11 new tracks including the current Top 20 hit, "Nobody's Nobody." John Osborne of the band shared, "As musicians, we're constantly evolving and pushing ourselves to new heights. With our fourth album, we've teamed up with a new producer, Mike Elizondo, and embraced his approach to our sound and story. Our expectations were already high and he absolutely shattered them. It's exciting to see where this journey will take us and we can't wait to share this sound with everyone. Life and art are about growth and taking risks, and we're ready to take on the challenge." Indie Exclusive White LP.


Black Rainbows [Indie Exclusive Limited Edition Opaque Red LP]
$29.98 34.98
Black Rainbows is a musical project inspired by the objects and artworks collected by Theaster Gates at the Stoney Island Arts Bank in Chicago. Situated at the Great Grand Crossing neighborhoods of Chicago's South Side, Stoney Island Arts Bank is a cathedral to Black Art, a curated collection of Black archives comprising books, sculpture, records, furniture and problematic objects from America's past. As well as being a site for archive, the Arts bank is also a place for convening. Bailey Rae attended The Black Artists Retreat there in 2017 and performed in the space.
Wide ranging in it's themes, Black Rainbows' subjects are drawn from encounters with objects in the Arts Bank. Taking us from the rock hewn churches of Ethiopia, to the journeys of Black Pioneers Westward, from Miss New York Transit Queen 1957, to how the sunset appears from Harriet Jacobs' loophole. Black Rainbows explores Black femininity, Spell Work, Inner Space/Outer Space, time collapse and ancestors, the erasure Black childhood and music as a vessel for transcendence. The project will be released in various iterations - live performances, books, visuals, lectures, exhibitions, and more. Sonically, the album is a multi-genre mix of the progressive R&B, neo soul sound that will be familiar to fans but it also contains rock, jazz and electronic elements. The album was produced by S.J. Brown and Corinne Bailey Rae.
BOOTCUT [Indie Exclusive Limited Edition Green Smoke LP]
$29.99 34.99
Bahamas' sixth full-length album, BOOTCUT, sees Afie Jurvanen lean into his (Alt and Old-Time) Country music influences. Produced by Grammy-nominated Robbie Lackritz (Jack Johnson, Peach Pit) and Dan Knobler (Allison Russell), the album features Country legend (and current Eagle) Vince Gill, pedal-steel maestro Russ Pahl (Kenny Rogers), bassist Dave Roe (Johnny Cash), harmonica player Mickey Raphael (Willie Nelson) and many more.
Strange Disciple [Indie Exclusive Limited Edition Clear LP]
$31.98 36.98
Clear Vinyl. Nation of Language have attracted an increasing, international audience with their danceable and impassioned takes on new wave and post-punk traditions. Their hopeful music-marked by soaring melodies, blinking synth lines, and frontman Ian Devaney's towering voice-is a ray of light in an era of anxiety, cynicism, hatred, and snark. Following the critical acclaim of their 2020 debut album, Introduction, Presence, and it's 2021 follow-up, A Way Forward, Nation of Language return with their third studio album, Strange Disciple. Recorded in the East Williamsburg home studio of their producer Nick Millhiser (LCD Soundsystem / Holy Ghost!), it is the band's first album recorded completely to analog tape. The sonic direction of the record became clear after the band wrote "Sole Obsession," "Spare Me the Decision," and "Sightseer," all groovy, bass-driven songs that deviate from the straight-forward drive of A Way Forward. As their bass lines became more playful and ambulatory, they also relied more on the electric guitar, which had largely been a background element up until this point. Strange Disciple is a spiritual, searching record. We follow a bumpy journey of self-exploration, stumbling on moments of clarity and wisdom, and then getting tripped up again. It's an invitation to both celebrate and mourn, find yourself and lose yourself, reflect on one's infatuations and perhaps even form new ones with these songs.


Electric Sounds [Limited Edition Yellow LP]
$38.98 43.98
From September 15th 2023, a few gears are shifted up again, because the undisputed kings of rock'n'roll are back. "Electric Sounds" will be the name of Danko Jones' eleventh album and it immediately has the feel of a classic. When the wheel turns freely and propels you forward, there's no need to reinvent the damn thing: instead, this band simply hones their craft... and always at full volume. After 27 years of active service, the trio's dedication and intensity continue to grow, and their popularity and notoriety continue to soar. With countless wins and successes under their collective belt, Danko Jones are a band of brothers with little to prove. But what the heck, there are always more people to play for and more electric sounds to sing. In the last ten years, Danko Jones have visibly shifted up a few gears. Since frontman Danko and bassist JC joined forces with drummer Rich Knox, the band's creative fire has blazed brighter than ever. A string of albums - Fire Music, Wild Cat, A Rock Supreme, Power Trio - has led to even more intense touring and tireless dedication to the cause of rock. "Electric Sounds" is the best proof that even a global pandemic couldn't stop Danko Jones. From the chutzpah of opening track Guess Who's Back and the muscular new-wave strut of Good Time to the title track's promise of "smash a thousand guitars tonight!" and the edgy, squinty stomp and jolting bullseye of Stiff Competition's chorus, "Electric Sounds" is a deceptively diverse affair. No band has ever sounded as ready to hit the road as the pumped-up threesome that showcases on hellish rages like Eye For An Eye, What Goes Around and the murderous closing track Shake Your City. Guest appearances by Tyler Stewart (Barenaked Ladies) on She's My Baby, Damian Abraham (Fucked Up) on Get High and guitarist Daniel Dekay (of Canadian thrash legends Exciter) on Electric Sounds round out the picture with snotty gusto. "Hopefully we'll get to tour with this record and people will come," Danko says. "I'm always pleasantly surprised when there's an audience in front of us every night. I've heard Ozzy worry to this day if people will come to the gig, and I can kind of understand that attitude. But you know what We just played Wembley Arena! That's a check mark on the bucket list. I'm proud to say that this band has played Wembley Arena, Maple Leaf Gardens, Moscow Stadium and CBGBs. And really, every time we put out a new studio album, it's our biggest success. This album is number 11 and we're already on our way to number 12!"Ltd. Edition 1. 000 units


Squeeze [LP]
$35.98 40.98
For fans of the struts, the hives, greta van fleet, dirty honey. Blowing up on tik tok with huge following and over 2 million likes. Opening for guns n roses' gilby clarke 2023. Hot new single 'do me a favor' out now with video shot in los angeles. The latest recruit to earache's chart smashing rock n roll revolution. Following in the footsteps of rival sons, black star riders, goodbye june, blackberry smoke, the temperance movement, massive wagons & those damn crows. Young, wild & ready to rock! The Bites put the party back in rock n roll.
Relentless [Baby Pink LP]
$24.98 24.98
1LP (Baby Pink Vinyl). The Pretenders return with RELENTLESS, their fourteenth studio album, due for release on September 15th. Arriving with the impulsiveness and attitude that at once defines the band's eternal spirit, RELENTLESS is a clearly defined snapshot of where The Pretenders are in 2023. RELENTLESS is the second consecutive Pretenders album to be written as a collaboration between Chrissie Hynde and the band's resident guitar hero, James Walbourne. Especially sought after in his own right, having recorded with Dave Gahan, Jerry Lee Lewis, and The Rails amongst many more. Produced by David Wrench and recorded at Battery Studios in West London, the album's 12 tracks feature what Chrissie describes as "The Pretenders Collective." This extended band features James Walbourne (guitars), Kris Sonne (drums), Chris Hill (double bass), Dave Page (bass) and Carwyn Ellis (keyboards and guitars). RELENTLESS also features a long hoped-for collaboration with the esteemed composer Jonny Greenwood (Radiohead, The Smile), who provides the string arrangement and conducted the 12 Ensemble for the album's beautiful closing track, "I Think About You Daily."


End [Yellow LP]
$29.98 34.98
End, the enigmatic new album by Explosions in the Sky, was inspired by darkness, but became a loud, dramatic, wild rumination on life and death. "Our starting point was the concept of an ending-death, or the end of a friendship or relationship. Every song comes from a story, or an idea one of us has had that we've all expanded on and made it's own world. Maybe it's our nature, but we kept feeling that the album title was ultimately open to a lot more interpretation-the end of a thing or a time can mean a stop, but it can also mean a beginning, and what happens after one thing ends might pale in comparison to what it becomes next," says the band about the album. End is perhaps the "grandest" Explosions In The Sky album - melding the quiet restraint and crushing feel of their early releases with the sonic texturing and ornate experimentation of their later releases, and their increasingly deep film and television scoring catalog, influenced by personal tastes stretching from classical to soul to experimental ambient music.


REVAMPED [LP]
$27.98 32.98
Demi Lovato - "REVAMPED" / With all new vocals and production, the 10-track album REVAMPED sees Demi reimagine her career-defining songs with a fresh perspective that reflects her current artistic vision. The re-recorded music showcases Demi's artistic growth and versatility, as she seamlessly evolves her songs from pop to rock while maintaining her signature powerhouse vocals. Vinyl LP EXPLICIT


The Land Is Inhospitable and So Are We [Indie Exclusive Limited Edition Robin Egg Blue LP w/ Baby Pink Slipcase]
$29.98 34.98
Sometimes, Mitski says, it feels like life would be easier without hope, or a soul, or love. But when she closes her eyes and thinks about what's truly hers, what can't be repossessed or demolished, she sees love. "The best thing I ever did in my life was to love people," Mitski says. "I wish I could leave behind all the love I have, after I die, so that I can shine all this goodness, all this good love that I've created onto other people." She hopes her newest album, The Land Is Inhospitable and So Are We, will continue to shine that love long after she's gone. Listening to it, that's precisely how it feels: like a love that's haunting the land.

"This is my most American album," Mitski says about her seventh record, and the music feels like a profound act of witnessing this country, in all of its private sorrows and painful contradictions. In this album, which is sonically Mitski's most expansive, epic, and wise, the songs seem to be introducing wounds and then actively healing them. Here, love is time-traveling to bless our tender days, like the light from a distant star.

The album is full of the ache of the grown- up, seemingly mundane heartbreaks and joys that are often unsung but feel enormous. It's a tiny epic. From the bottom of a glass, to a driveway slushy with memory and snow, to a freight train barreling through the Midwest, and all the way to the moon, it feels like everything, and everyone, is crying out, screaming in pain, arching towards love. Love is that inhospitable land, beckoning us and then rejecting us. To love this place — this earth, this America, this body — takes active work. It might be impossible. The best things are.
CMF2 [Indie Exclusive Limited Edition Neon Violet LP]
$34.98 39.98
The sophomore album from 11x Platinum-certified, 43x Gold-certified, and GRAMMY®-winning rock icon COREY TAYLOR ."I have no fear when it comes to music. None," Corey Taylor declares. "It feels so good to really lean into the things that I've been chomping at the bit to do." Those "things"? The 13 diverse, unforgettable songs on CMF2, ranging from the punchy, timeless first single "Beyond" to "Someday I'll Change Your Mind," a soaring, sentimental stunner with an infectious chorus. The songs move seamlessly from the punk rawness and anthemic rallying cry of "We Are The Rest" to the acoustic lament "Breath Of Fresh Smoke" to "Post Traumatic Blues," which has a wild sensibility that echoes the lyrical topic of PTSD.
CAVES [LP]
$25.98 25.98
Multiplatinum band NEEDTOBREATHE return with their unique fusion of modern rock, purpose driven-soul and undeniable mainstream appeal on their ninth studio album. CAVES is a collection of awe-inspiring melodies, breathtaking instrumentation and epic-scale energy, giving the band's soul-probing approach a more expansive new scope. It features a wide array of special guests, including country hitmakers Carly Pearce and Old Dominion, plus alt-rock band and fellow tourmates Judah & The Lion.


Out Of The Shadows [Teal LP]
$25.98 25.98
Escape The Fate is back with their newest album, Out Of The Shadows! Produced by two-time Grammy-nominee John Feldmann, the album features 12 new songs including "Cheers To Goodbye" featuring Spencer Charnas of Ice Nine Kills. The band will be supporting this record in the fall of 2023 on their headlining Out Of The Shadows Tour along with D.R.U.G.S, Point North, GARZI and more! Available on teal vinyl in a gatefold jacket.


Bluegrass
$12.96 15.96
Bluegrass is a brand new studio album that captures a dozen classic Willie Nelson compositions--including "On the Road Again," "Yesterday's Wine," "Still is Still Moving to Me," "Good Hearted Woman" and more--freshly interpreted by Willie and an ensemble of crack players. In a seven decade career that has seen him explore genres from one end of the musical spectrum to the other, this is his first full album dedicated to genre. Willie and longtime producer Buddy Cannon, picked personal and fan favorite compositions from across his career to perform anew for this salute to the Appalachian old-time string band music which profoundly influenced Willie's songwriting sensibilities and the direction of American country music in general. Using his own catalog as source material, Willie chose songs combining the kind of strong melodies, memorable storylines and tight ensemble-interplay found in traditional bluegrass interpretations of the roots of American folk songs. With Bluegrass, Willie uncovers new truths in his own songs.
Milk Cow Blues [2 LP]
$37.99 42.99
Milk Cow Blues is the 48th studio album, released in 2000, by American country music singer Willie Nelson. It contains several duets and musical collaborations with artists such as B. B. King and Dr. John. Available for the first time on vinyl. 180-gram 2 LP.


MONO [Coke Bottle Clear LP]
$24.98 24.98
Coke Bottle Clear Color Vinyl. K. Flay returns with her latest studio album MONO. This album features 15 all new songs including "Raw Raw," "Shy" and "Punisher," as well as Irish Goodbye, her collaboration with Vic Fuentes from Pierce The Veil.
Sorry I Haven't Called [Indie Exclusive Limited Edition Baby Blue LP]
$24.98 24.98
On June 15, we will release the new song "Can I Talk My Shit?," by Vagabon, the moniker of Lætitia Tamko. We will also announces her new album,Sorry I Haven't Called, which is out September 15th via Nonesuch Records, and a fall tour that includes a headline run in the US, and EU dates with Arlo Parks and Weyes Blood. The album, co-produced by Tamko and Rostam (Vampire Weekend, Haim, Clairo), finds Tamko reinventing herself once again and features the most playful and adventurous music of her career.
"I didn't feel like being introspective," says Laetitia Tamko of her new album Sorry I Haven't Called. "I just wanted to have fun." Following her intimate 2017 debut Infinite Worlds, the New York artist favored expansive and evocative electronic textures in her breakthrough 2019 self-titled follow-up. But her latest LP feels like a wholly new era for Tamko, one that's transformational and uncompromising. Across 12 vibrant tracks she wrote and produced primarily in Germany, she channels dance music and effervescent pop through her own confident sensibilities. These conservational songs are alive and unselfconscious, a document of an artist fully embracing her vision and reclaiming her joy. 

Tamko's lyrics on Sorry I Haven't Called are uniformly playful and inviting. The first words she sings on the album are, "Can I talk my shit? / I got way too high for this." It's a statement of purpose for the rest of the album that this is an unapologetic artist. "This whole record is how I talk to my friends and how to talk to my lovers," says Tamko. "I think honesty and conversational songwriting can become poetry. There's beauty in plainly speaking without metaphors and without flowery imagery."
Comfort Eagle [LP]
$26.98 31.98
CAKE's fourth studio album Comfort Eagle, which includes hit single "Short Skirt / Long Jacket" is being released on stand-alone vinyl for the first time. The platinum selling album, originally released in 2001 will be a 1LP, 180g, black vinyl.
Ode To Joe
$13.98 16.98
Ode To Joe is internationally-acclaimed drummer and percussionist David Whitman's fourth album as leader. A hard swinging septet session dedicated to the memory of drummer Joe Morello, the six tunes were composed by Whitman and Grammy nominated arranger Andrew Neesley. It features a stellar group of musicians including saxophonist Bob Sheppard, guitarist Bruce Forman, and Grammy Award winning pianist Geoffrey Keezer. 
VIEW COMPLETE LIST
Music Releases 08-25-23
A Cat In The Rain [Indie Exclusive Limited Edition Opaque Tan LP]
$23.98 27.98
One of America's most beloved independent bands, Turnpike Troubadours will release their highly anticipated new album, A Cat in the Rain, August 25 via Bossier City Records/Thirty Tigers (pre-order/pre-save here). Ahead of the release, comes the new song, "Mean Old Sun," alongside an official music video. Watch the video, directed by Sterlin Harjo and filmed at Tulsa's Cain's Ballroom, at the top of this page.

In conjunction with the new music, the band recently spoke with Rolling Stone, who declares, "he [lead singer Evan Felker] is more focused and lyrically crisp than at any point in his life. He's a poet, but he's direct."

Produced by Shooter Jennings and recorded at Muscle Shoals' Fame Recording Studios and Dave's Room in Los Angeles, A Cat in the Rain marks a long-awaited return for the band following their self-imposed hiatus in 2019. With these ten new songs, Turnpike Troubadours is back with a refreshed perspective on the authentic songwriting and signature foot-stomping sound that first captivated their deeply devoted fanbase.

Pioneers of the Red Dirt music scene, Turnpike Troubadours has amassed a massive following throughout their career with over 1.28 million equivalent units sold to-date. Originally from Tahlequah, OK, Turnpike Troubadours is Evan Felker (vocals, guitar), Kyle Nix (fiddle), Ryan Engleman (electric guitar), RC Edwards (bass), Gabe Pearson (drums) and Hank Early (steel, accordion).

Known for their relentless touring and electric live shows, the band will perform through this fall including newly confirmed headline shows at New York's Beacon Theater, Nashville's Ryman Auditorium (two nights), Washington DC's The Anthem, Los Angeles' Greek Theater and Fort Worth's Billy Bob's (three nights) among several others. The band will also perform at select festivals this summer including Newport, RI's Newport Folk Festival, Pryor, OK's Born & Raised Festival, Memphis, TN's Mempho Music Festival and Charleston's Riverfront Revival Music Festival.
Jump For Joy [Indie Exclusive Limited Edition Black & Orange LP]
$23.98 27.98
The songs that make up Jump for Joy the sharpest and most autobiographical that MC Taylor has written under the Hiss Golden Messenger name read as a sort of epistolary, postcards between the present-day songwriter and his alias Michael Crow, a teenaged dreamer very much like Taylor himself, who trips his way through the 14 tunes that make up the record. Produced by MC Taylor and engineered by longtime Hiss Golden Messenger compatriot Scott Hirsch over two weeks in the late fall of 2022 at the fabled Sonic Ranch studio in Tornillo, TX, just a short walk from the Mexican border, Jump for Joy dances with joyful, spontaneous energy that feels like a fresh chapter in the Hiss Golden Messenger oeuvre. Taylor is accompanied throughout the album by his crack live band: guitarist Chris Boerner, bassist Alex Bingham, keyboardist Sam Fribush, and drummer Nick Falk, a collection of musicians that have helped make Hiss Golden Messenger's live performances legendary affairs.


Mommy [Indie Exclusive Limited Edition Living Dead Green LP]
$24.98 24.98
The Nashville, Tennessee, garage rock group were signed as teenagers to the prestigious XL in the UK and Thurston Moore's Ecstatic Peace label in the US, with whom they released two widely acclaimed albums. They went on to tour with the likes of Arctic Monkeys, Sonic Youth, Le Tigre etc and have been cited as influences for groups such as Paramore and Big Joanie.
CALL ME IF YOU GET LOST: The Estate Sale [Geneva Blue 3LP]
$49.98 49.98
CALL ME IF YOU GET LOST: The Estate Sale is a limited edition 3 LP vinyl set, that features Tyler, The Creator's original critically acclaimed CALL ME IF YOU GET LOST album plus 8 additional songs, pressed on Geneva Blue colored vinyl. The discs are housed in a triple gatefold jacket with embossed cover, and foil detail, and includes a 28 page booklet.
Psychopath [LP]
$25.98 25.98
An astounding 13-track LP crafted with the help of some of Nashville's most extraordinary musical talents, from A-list songwriters to studio musicians and, of course, her longtime producer-guru/song whisperer Sadler Vaden, Psychopath most excitingly finds Wade peeling back layers of her psyche like never before.


Come On Over - Diamond Edition [2LP]
$37.99 42.99
Come On Over is the top-selling country album and the highest-sold album by a female artist of all time. In celebration of the album's 25th anniversary and over 40M global sales, the US version of the album has been remastered from the original tapes for the first time ever. Now available on 180g black vinyl.
Jubilee [LP]
$23.98 27.98
As multiple Grammy-winners, Old Crow Medicine Show celebrates their 25th anniversary. Their new album, Jubilee, finds the band producing alongside Matt Ross-Spang (Jason Isbell, St. Paul & The Broken Bones). The record features a return cameo from OCMS co-founder Willie Watson as well as appearances from legend Mavis Staples and rising star Sierra Ferrell. The result encompasses everything from jug-band tunes to Irish folk songs to exultant gospel jams.


Real Life [Clear LP]
$21.98 25.98
Crooks & Nannies is a collaboration between multi-instrumentalists Sam Huntington (she/her) and Max Rafter (they/them). The duo's signature blend of brash, confessional indie rock functions on extremes. Alternating between painfully tender and jarringly obtuse, the childhood friends fashion themes of growth, loss, and transformation into off-kilter pop songs that whirr with the unpredictability of a failing engine. In early 2020, just days after Huntington decided to start hormone therapy, her father was diagnosed with terminal cancer. After his passing, she and Rafter retreated to the partially-finished, off-grid cabin that her father had been building prior to his diagnosis. It was the first time either of them had been back to their hometown in upstate NY since transitioning, and it resulted in a distinct contrast between vulnerable, melancholy hush and explosive, confused guitar throughout every fiber of their new record, Real Life. 
Bite [Indie Exclusive Limited Edition Peak Antifreeze Green LP]
$22.98 26.98
The moment the needle drops on Bite, the new A Giant Dog record, one's conception of what an A Giant Dog record sounds like bends like space and time around a starship running at lightspeed. The biggest point of departure is that Bite is a concept album, concerning characters who find themselves moving in and out of a virtual reality called Avalonia.

A Giant Dog's first album of original songs since 2017's Toy, Bite finds the band—Sabrina Ellis, Andrew Cashen, Danny Blanchard, Graham Low, and Andy Bauer—at their peak as musicians, challenging themselves with more complex arrangements and subject matter that forced them out of their heads and into those of the characters who occupy this supposed paradise. "We had to find ourselves within, or project ourselves into, the principal characters. We developed them, got to know their minds, emotions, and motivations, and then expressed those in nine songs," Ellis explains.

Themes of addiction, gender fluidity, living ethically in a capitalist society, physical autonomy, avarice, grief, and consent bubble beneath the promised happiness of Avalonia. This is evident in songs like "Different Than," where Ellis sings, "My body can't explain the things my mind don't comprehend" as if societal gender pressure is squeezing its protagonist out of their skin.

The songs on Bite are full of bombast, at turns calling to mind the spacefaring operatic rock of Electric Light Orchestra and the high drama of an Ennio Morricone film score. The album's narrative sweep is epic in scope, its characters facing impossible odds and certain doom, existing as comfortably with the sci-fi grandiosity of Thin Lizzy's Jailbreak as it does with the high fantasy of Dio and Iron Maiden.

Appropriately, A Giant Dog came to this narrative armed to the teeth with new ideas, unleashing synthesizers and string sections to create what Ellis describes as orchestral, symphonic, futuristic punk. To achieve this, they left their home turf of Austin, Texas, for La Cuve Studio, just outside of Angers, France. Living in the French countryside, A Giant Dog laid down their vision of the future against a decidedly pastoral back-drop. On walks from Angers to La Cuve, Ellis says that they "would see many things, and also nothing at all. Swans on the river. Romani people living in little trailers, with a side hut built for their dog. A juggler on a unicycle—not fucking with you." "We thought we wouldn't be allowed back in France after this trip, to be honest," they continued. "Five loud, stomping, clapping, rowdy Americans who ran through the
streets of Angers for three weeks in November 2022."

The experience capped two years of planning and writing, fleshing out the universe of Avalonia beyond the bounds of most concept albums. The resulting nine songs do not merely occupy this space: They've lived in it, and they want out.
WEEDKILLER [Indie Exclusive Limited Edition Alternate Art Recycled Vinyl with Blue Tint LP]
$27.98 32.98
Debut album WEEDKILLER is a collection of irresistible songs that perfect the bold, genre-blending sound that has defined Ashnikko's work to date. While the acclaimed 2021 mixtape DEMIDEVIL showcased a head-on approach, directly tackling themes of sexual revolution and revenge, WEEDKILLER is more allegorical. 
 
A half-concept album set in a dystopian future, the WEEDKILLER universe that Ashnikko has created tells the story of a fae civilization occupied and destroyed by machines that feed on organic matter where the faerie protagonist seeks revenge by becoming part machine - a poetic commentary on environmental disaster and the rapid evolution of technology, while also confronting real-world issues from sexual empowerment to tech warfare and ecological collapse. Full of equal parts naked vulnerability and joyful rebellion, WEEDKILLER gives a thundering voice to the oppressed.
 
Speaking on the announce, Ashnikko states "My bioluminescent heart is glowing. My post-apocalyptic fae world is here for you to journey into. My wings have been ripped out, but I've built them anew using WEEDKILLER machine parts. I am the one sent here to eliminate you, WEEDKILLER."
Road [Indie Exclusive Limited Edition Blue Marbled 2LP+DVD]
$44.98 49.98
The road will make you or break you. To survive it, you need to be as tough as asphalt and move fast enough to make the competition eat dust. Throughout 2022, Alice collaborated closely with the members of his touring band as well as long-time producer Bob Ezrin, putting together what would become his brand-new studio album "Road." You can feel the energy and lightness that the band brings with every riff and hear the story behind what inspired them. Bringing everything full circle, it channels the spirit of old school Alice with instantly recognizable grit and plenty of gusto. It's everything you'd hope for from him and more. And this time his trusted longtime bandmates— Ryan Roxie [guitar], Chuck Garric [bass], Tommy Henrikson [guitar], Glen Sobel [drums], and Nita Strauss [guitar]—are riding shotgun.
Kane Roberts (a touring and recording collaborator with Alice's in years past who briefly rejoined Cooper on the road in 2022) makes a special guest appearance, contributing the raucous and rip-roaring "Dead Don't Dance." Other special contributors to the album include Rage Against The Machine's Tom Morello, who co-wrote, and plays and sings backing vocals on "White Line Frankenstein," and Buckcherry's Keith Nelson and MC5's Wayne Kramer, who also co-wrote new songs with Alice.
Heaven Into Dust
$15.98 18.98
There's a new metal kid in town! Exciting uprising German outfit KNIFE reveals a blend of modern extreme, speed and first wave black metal sprinkled with punk elements on their new album and Napalm Records debut, Heaven Into Dust, set for release on August 25, 2023! Formed in 2019, the band defied the pandemic - quickly establishing their standing in the scene with their acclaimed self-titled debut record, Knife (2021). German Metal Hammer predicted KNIFE would hit like a torpedo, giving the album an impressive 6/7 rating. Now, the quartet delivers the sharpest blade, obeying the authentic sound of raw extreme metal! Kicking off with dramatic organ tunes and unsettling whispers, album opener "Hawks Of Hades" sets the tone for their newest chapter. Raspy punk screams rule the darkness together with an eclectic arrangement. Followed by the rousing track "Night Vision", remarkable classic rock riffs build its foundation while unbridled drums hustle along with shredding guitars. Topped by a catchy, raw refrain, vocalist Vince Nihil fits in perfectly with the fiery demonic atmosphere. On title track "Heaven Into Dust", KNIFE settles down in the fierce abysses of speed metal. Shredding demons against the walls, the German quartet set heaven on fire with blood-curdling screams, unstoppable drum passages and race along with headbang-worthy guitar lines. Bringing out their hard rock and heavy metal influences on songs like "With Torches They March" and "Black Oath and Spells", they showcase the band's skill in creating remarkable choruses, characterized by soaring vocals, scorching guitar solos and leading drum strokes. KNIFE keeps on rolling with dynamic changes on the album closer "No Gods In The Dark" – featuring unbending, shrieking screams dueling with shredding riffs before the instrumental finale fades out. With Heaven Into Dust, the band has truly sharpened their tools and is ready to convince with their energetic live performances at festival appearances like Wacken Open Air and Rock Hard festival this summer – beware!
A Call To The Void [LP]
$23.98 27.98
For some, it might feel like a long time coming but Hot Milk always knew that when the time came to make their debut album, they had to be ready for it.  It will be their loudest statement yet of who they are and what they stand for, an opportunity to show the world what they are made of.  Tracks on the debut album walk on a tightrope between the humorous and the serious, brimming with what might be called positive nihilism.  They're not so much finding the light in the dark as they are laughing, because if they don't, they'll cry.  With A CALL TO THE VOID, Hot Milk are set to launch themselves into the upper echelons of the British rock scene.
Standing Room Only [Clear 2 LP]
$34.98 39.98
Following the release of his new single "Standing Room Only," three-time Grammy® winner and superstar Tim McGraw's 17th studio album of the same name, Standing Room Only, will release on August 25, 2023. McGraw has sold more than 89 million records worldwide, has dominated the charts with 46 #1 singles and is the most-played country artist since his debut in 1992.
Field [Forest Green LP]
$24.98 24.98
In Rumi's poem A Great Wagon he writes of a place of total acceptance. "Out beyond ideas of wrongdoing and rightdoing, there is a field. I'll meet you there," It is a boundless, liminal space where we can release the judgments we make and carry of ourselves, and the comparisons to others. When we think of this field, there is a sense of tranquility that only comes when we are undisturbed by the shadow self and see existence as neither bright nor dim, white nor black. But as lead singer Greg Bertensexplains, arriving there is a whole different story. "This is a poem I've returned to over the years, and I love the idea of this place, but getting there is life's journey." Bertens adds "I think the longing for and elusiveness of this field is a recurring theme in our music." Field is enveloped by themes of regret, disconnection and frustration but with the space to understand that these feelings are a natural part of the struggle between reconciling the inner and outer self.

The Los Angeles/San Francisco-based group have been indie shoegaze stalwarts since their formation in 2001. After two decades and a handful of line-up changes, their extensive discography presents a dynamically textural, lush psychedelic rock that has featured guest appearances by members of Pavement, My Bloody Valentine, and Snow Patrol, among others. 2021's LP We Weren't Here(Sonic Ritual) was hailed for its dense instrumental blanket, where unrelenting hi-hats and heavy kicks exist alongside dreamy drone guitar.
Accelerate [LP]
$29.98 34.98
Released in 2008, Accelerate was intended as a departure from R.E.M.'s previous album, Around the Sun, and was lauded for the aggressive, purposeful sound of the songs. The album was described by Rolling Stone as "one of the best records R.E.M. has ever made." It debuted at #2 on the Billboard 200 and stayed on the chart for 18 weeks. The LP contains fan favorite "Supernatural Superserious." This edition is pressed on 180-gram vinyl with a printed insert.


Wild Ones: Deluxe Edition [Crystal Blue 2 LP]
$37.99 42.99
Kip Moore's second studio album, Wild Ones, was released in 2015 and features 16 tracks, including the singles "I'm To Blame" and "Running For You." This Deluxe Edition 2 LP set is pressed on crystal blue colored vinyl on contains the bonus tracks "What I Do," "Backseat" and "Burn The Whole World Down."
Brothertiger Plays: Tears For Fears' Songs From The Big Chair [LP]
$25.98 25.98
Following the release of multiple EPs, numerous remixes and three studio albums, in 2017 Jagos began work on an immense project: covering the entirety of Tears for Fears' Songs From the Big Chair. Having eventually made its way to the ears of Roland Orzabal and Curt Smith of Tears for Fears, Roland called Jagos's cover album, "...brilliant. I think we might have to play his versions before we go on stage. His 'Mothers Talk' is better than ours."
Perfect Saviors [Indie Exclusive Limited Edition Blue LP]
$31.98 36.98
The Armed return with their new album Perfect Saviors, the first new music since 2021 breakout release ULTRAPOP. Providing a full accounting of album contributors for the first time, Perfect Saviors was produced by the band's Tony Wolski along with Ben Chisholm and Troy Van Leeuwen, with contributions from Julien Baker, Sarah Tudzin, Mark Guiliana, Justin Meldal-Johnsen, Eric Avery, Stephen Perkins, Josh Klinghoffer, and many more. The album was mixed by Alan Moulder. Vocalist Tony Wolski offered this statement on the album: "Too much information has made us dumb and confused. Too many ways to connect have inadvertently led to isolation. And too much expectation has forced everyone to become a celebrity. Predictable primal dangers have given way to newer social ones. And the result is a world that is confounding and terrifying—but ultimately still beautiful. We hope this record is exactly all of that, too. Perfect Saviors is our completely unironic, sincere effort to create the biggest, greatest rock album of the 21st century."
Unholy Deification [Indie Exclusive Limited Edition Royal Blue with Splatter LP]
$25.98 25.98
Death Metal icons INCANTATION prepare the masses for their new album, Unholy Deification, via Relapse Records. Edified over three-plus decades of experience, Unholy Deification is the group's 13th full-length album. Validated by peers seasoned and new, INCANTATION are more vital than ever - the lineup, featuring founding guitarist/vocalist John McEntee, drummer Kyle Severn, bassist Chuck Sherwood, and guitarist Luke Shively, displays death metal know-how and the power of determination. "I'm not interested in playing it safe," McEntee asserts. "I think other people feel that there are limits to what we do. However, I don't see it that way. If it feels right, then it's Incantation. The songs we write are an honest expression of ourselves. 'Sect of Vile Divinities' was a stressful recording for me and the band. We felt fed up and were just happy to be done with it. When people hear the new album, I hope they think, 'Why are these guys so pissed off?!' Rage gives focus, which is why this album turned out the way it did." Lyrically, Unholy Deification originates with Sherwood. An avid reader and occult logician, the INCANTATION bassist wanted to capture a fully-realized concept of evolution through enlightenment. Expect thought-provoking, historically-derived intellection. That the mortal-to-deity narrative interacts with the merciless musical conflagration of hard-hitting tracks such as "Concordat (The Pact) I," "Homunculus (Spirit Made Flesh) IX," and "Invocation (Chthonic Merge) X". Make no mistake - the ferocious new album, featuring guests Jeff Beccera (Possessed), Henry Veggian (ex-Revenant), and Dan Vadim Von (Morbid Angel), is pure Death Metal. INCANTATION's sepulchral pandemonium is visually enhanced by award-winning artist and longstanding collaborator Eliran Kantor (Immolation, Bloodbath). The end result is an interpretation of Italian Renaissance masters, but thrust into INCANTATION's cauldron of chromatic malice.
NEON GENESIS EVANGELION (Original Series Soundtrack) [2LP]
$41.98 46.98
The NEON GENESIS EVANGELION SOUNDTRACK Vinyl takes you on a mesmerizing journey through the iconic series. With its translucent blue vinyl adorned with ethereal black smoke, this edition captures the enigmatic essence of EVANGELION's mysterious world. It features all the songs from the NEON GENESIS ORIGINAL SOUNDTRACK, including " A Cruel Angel's Thesis (Director's Edit Version)"and "FLY ME TO THE MOON – Yoko Takahashi Acid Bossa Version". This edition comes in a 140g vinyl, housed in a colored gatefold jacket with illustrations of the series, and includes a credit insert with comprehensive information about the songs and the series.
VIEW COMPLETE LIST
Music Releases 09-22-23
Playing Robots Into Heaven [LP]
$32.99 37.99
Gearing up for another pivotal creative chapter, GRAMMY® Award-winning UK singer, songwriter, multi-instrumentalist and producer James Blake has released "Big Hammer," the debut single from his forthcoming, sixth studio album Playing Robots Into Heaven which will be released on September 8, 2023. Playing Robots Into Heaven follows the critically acclaimed Friends That Break Your Heart and will see James return to the electronic roots of his Hessle, Hemlock and R&S records days. It will also nod to his latest creation, the CMYK event series with Ronda INTL which kicked off in Los Angeles last March and will be venturing to London on July 6th.
USA [LP]
$25.99 30.99
Acclaimed indie artist Petey will release USA – his first album for Capitol Records – on September 22, 2023. Petey is a one-of-a-kind, multi-hyphenate artist with heart, singular wit, unique vision and an expansive sonic range. Using a combination of arpeggiated synthesizers, distorted guitars and shouted vocals, Petey is unflinchingly candid as he examines depression, anxiety, masculinity and heartbreak with his music and new record. Available on vinyl with a folded poster included.
Scarlet
$11.96 14.96
Doja Cat's fourth studio album Scarlet introduces a new era for the Grammy award-winning global superstar that represents a rebirth in her career sonically and creatively.Scarlet shows the artist's versatility as a rapper, with this album being completely written by Doja Cat throughout. This 15 track collection includes the worldwide hit "Paint The Town Red."
Chai [LP]
$24.98 24.98
The Japanese band Chai cast a spell on the world in 2017 with their debut album, PINK, a collection of songs that introduced their singular brand of playful pop. The enthusiastically feminist follow-up, PUNK, raked in accolades from the music press and fellow artists. That led to WINK, which Chai made via remote Zoom sessions, a limitation that became a strength by allowing MANA (lead vocals and keys), KANA (guitar), YUNA (drums), and YUUKI (bassist-lyricist) to collaborate with artists abroad to create a work that found catharsis in their international community. Unlike WINK, the band's new self-titled album finds Chai returning to their roots, drawing inspiration from city pop, J-pop, and their Japanese heritage. The album might be the perfect distillation of Chai's ethic: it urges listeners to keep moving through this life with joy and passion. Per MANA: "It's not about winning or losing as competition, but about what you need to do, personally, to feel you've won."


Southall
$14.98 17.98
Read Southall can sure turn a phrase. "This record is the gasoline for the love machine," he says of the band's new album, the exhilarating and self-titled Southall. The record sparks and burns with 11 crank-it-up songs that expertly combine country, rock & roll, and the dust and grit of the band's native Red Dirt scene. Produced by Eddie Spear, Southall manifests the true band album that singer Read Southall first envisioned, a band's album that roars with raw and loud collaborative power with glimpses of hard rock and metal, along with easygoing back-porch vibes. The group formerly known as the Read Southall Band now makes music where every member of Southall brings lyrics, melodies, and full songs to the table. "It's the colors of different people with different influences making music," Southall says. That's why we changed our name to Southall."


Lost In A Rush Of Emptiness [LP]
$24.98 24.98
Bleach Lab proudly call themselves perfectionists. The South London formed in 2017 as a duo of bassist Josh Longman and guitarist Frank Wates, they then recruited vocalist Jenna Kyle before reaching their final form at the start of 2021 with the recruitment of drummer Kieran Weston. After releasing three EPs, they are now gearing up for their debut album Lost In A Rush Of Emptiness, where the band felt free to experiment, always keeping true to their alternative nature. The songs on it are packed with widescreen, dreamy soundscapes that pushed their aesthetics forwards and continued the experimentation that exists at the heart of the project.


Denim & Rhinestones [Deluxe Edition]
$13.99 16.99
This new Deluxe Edition features the original 12 tracks including the hit singles "Ghost Story" and "Hate My Heart," plus 6 additional songs including "Take Me Out" and her latest single "Out Of That Truck." Carrie is a true multiformat, multimedia superstar, spanning achievements in music, TV, film, and as a New York Times bestselling author and successful entrepreneur. She has sold more than 85 million records worldwide and recorded 28 #1 singles (14 of which she co-wrote).
Nothing Lasts Forever [Indie Exclusive Limited Edition Peak LP]
$24.98 24.98
"Foreign Land" is the opening track on Teenage Fanclub's 2023 studio album, Nothing Lasts Forever. That track-and the rest of this beautifully rich and melodic album-is the sound of a season's end, of the last warm days of the year while nights begin to draw in and thoughts become reflective and more than a little melancholy. While the vocals and the finishing touches on Nothing Lasts Forever were recorded at Raymond McGinley's place in Glasgow, the music was recorded in an intense 10-day period in the bucolic Welsh countryside at Rockfield Studios, near Monmouth, in August 2022. You can hear the effect of that environment on the record-it's full of soft breeze, wide skies, beauty, and space.


Confessions Of The Fallen [Limited Edition LP]
$26.98 31.98
Confessions Of The Fallen is the brand new album from radio rock titans Staind. It marks their return as a band after hiatus and is their first studio album in 12 years. The record features 10 pummeling rock anthems, including radio smash "Lowest In Me" and brand new single "Here And Now".
Beauty In Death: Reissue [Indie Exclusive Limited Edition White LP]
$24.98 24.98
Amassing over 350 million streams domestically and receiving acclaim from Billboard, OnesToWatch, mxdwn, PopCrush, Alternative Press, Substream Magazine, and Rock Sound of which they graced the cover, this Australia-born and Los Angeles-based trio boldly push forward again on Beauty In Death, their debut for Fearless Records.


Last Splash: 30th Anniversary Edition [Deluxe 2LP + 12in]
$55.99 61.99
A defining album of the 90s, Last Splash by The Breeders turns 30 this year. To celebrate, the band have returned to the original tapes to give it its first-ever remaster, and by doing so have also unearthed two lost tracks that will delight fans. 
  
Recorded by the 'classic' Breeders line-up of Kim Deal, Kelley Deal, Josephine Wiggs and Jim Macpherson and featuring singles 'Cannonball' and 'Divine Hammer', Last Splash was "an alt-rock classic" (Pitchfork's Top 100 Records of 1990s) on release; a fast seller too, quickly attaining Platinum status in the US. 
 
Despite having had the boxset treatment on its 20th birthday, the album was still left to be remastered so 10 years on, the original ½" tapes were taken out of the archives and have been lovingly worked on by Kim Deal, Benjamin Mumphrey and Miles Showell (Abbey Road). 
 
Never sounding so good, the album for its 30th anniversary, it's getting the ultimate vinyl pressing. Entitled Last Splash (the 30th Anniversary Original Analog Edition), this new version has been cut at half speed at Abbey Road by Miles Showell, now spanning two LPs and running at 45rpm. 
 
This edition contains an exclusive, one-sided etched 12" which features two previously unreleased tracks – 'Go Man Go' and 'Divine Mascis' ('Go Man Go' is a track that Kim co-wrote with Black Francis while 'Divine Mascis' is a different version of 'Divine Hammer' with Dinosaur Jr.'s J Mascis on lead vocals). Both tracks originate from the original sessions and were left forgotten until the sessions were exhumed to create this new master. 
 
The attention to detail continues to the album's art, which equally celebrates Vaughan Oliver's iconic sleeve. With Vaughan sadly no longer with us, his long-time design partner Chris Bigg has gloriously reimagined the album's sleeve for this new version.
Flying Wig [Indie Exclusive Limited Edition Opaque Blue LP]
$29.98 34.98
"Flying Wig" is an album of recurrent dualities; a can of paradoxes, a box of worms. The pine-surrounded cabin studio where Banhart was "constantly listening to The Grateful Dead" somehow birthed something slick, city pop-adjacent and eno-esque. It's the actualisation of a "precious friendship" with producer Cate Le Bon - a coming together prophesied by the mirror-image titles of their early solo albums (Banhart's "Oh Me Oh My" / Le Bon's "Me Oh My"), a tenderness built on crude haircuts ("we finally met, soon after she was cutting my hair with a fork and that was that") and home-made tattoos.
Man's A Wolf To Man [Limited Edition White LP]
$28.98 33.98
Limited Edition White Vinyl (1 x LP in sleeve). 'Man's A Wolf To Man' is Andy Taylor's third solo album and his first in 30 years. The record is a pandemic album, and a cancer album, and a state-of-the-world album, but still a triumph of joyful, uplifting music. Originally intended for release in 2020, Andy used the opportunities of the Covid lockdowns to re-examine the album retool it under his own unique circumstances. Then, in 2022 he was given the news that the prostate cancer he had been battling was now terminal and the diagnosis meant he was unable to attend his induction into the Rock And Roll Hall Of Fame as a member of Duran Duran. However, this directly led to a reconciliation between Andy and the band and he is optimistic that pioneering targeted nuclear therapy will give him longer than he had originally believed. 2023 finds Andy Taylor on top of the world, with a truly fantastic and career-defining solo album, and bridges rebuilt with his old friends and bandmates. The future looks bright, for as long as it can last, whatever length of time that might be.


TEC
$11.99 14.99
TEC is a journey through the past four years, reflecting on Lil Tecca's rapid ascent, subsequent challenges, and ultimate triumph as he has navigated his evolution. With TEC executive produced by Lil Tecca and Taz Taylor, Tecca embraces his comfort in his own skin and a newfound confidence, diving deeper into his roots and personal narrative. The fourth studio album from Lil Tecca includes the previously released tracks "500lbs" and "HVN ON EARTH" feat. Kodak Black.


Toward a Never Ending New Beginning [LP]
$24.98 24.98
Los Angeles based indie pop project Yoke Lore, the solo musical venture of Adrian Galvin, announces his debut full-length album, Toward A Never Ending New Beginning, out everywhere via Yell House Records / Thirty Tigers on September 22nd. 
Yoke Lore's first full length album, Toward A Never Ending New Beginning is set to solidify Galvin as an indie pioneer, transcending beyond the genre with his unparalleled talent for captivating listeners with his distinct artistic vision and introspective lyricism. The 14-track album chronicles his journey of turning strengths into weaknesses, personal growth, and discovering who Yoke Lore truly is. It's an album full of reflection and raw, unfiltered honesty that will most definitely connect with listeners on a deeper level. Combining electronic beats with subtle instrumentation, each song on Toward A Never Ending New Beginning is sonically diverse and thoughtfully crafted, taking listeners on a journey of self-discovery along with Galvin.
Galvin views his debut record Toward a Never Ending New Beginning, as being guided by the principles of the I-Ching; an ancient Chinese divination text that maps out 64 transitions that you could possibly be going through at any time, reflected in the form of hexagrams. It is a meditation on all of the little changes he has gone through in his life: from celebrations to moments of sadness to moments of stillness. All of it is connected, all of it is related.
The third track on the album, "Shake" combines ethereal layered vocals and bouncy synth to create an upbeat, motivated track about disrupting the routine and repetitiveness in our lives. Stripped-back verses build to the bursting chorus that encourages listeners, "You gotta find time to shake." After a radiant bridge, the instrumentals slowly fizzle out, leaving the message of the song hanging in the air for reflection.
Regarding the single, Yoke Lore states, "'Shake' is a dedication, a declaration, and a demonstration. It is a dialogue between me and the world. I wrote this at a time when I felt isolated by my own sluggish trepidation. One day as I was laying in a pool of sweaty lethargic shame, I came across an ancient Chinese oracle called the I-Ching or Book of Change. I threw some coins and divined a hexagram made up of six stacked lines. It was called Zhen or Shake or Shock. It told me that I was at an inflection point. It demanded that I shake myself up out of the malaise or things would go septic. We all go through periods of stale stagnation. Our bodies and our lives have to be lived in motion. If we stay the same, we fail to grow, we get brittle in the body, we get stubborn in the mind, we go blind in the heart. By embracing the flux inherent in our nature, we can find some harmony. Shake yourself out of the torpor and toward a never ending new beginning."
The new single follows on the heels of "Winona," released last month. Exploring themes of self-discovery and the cathartic power of personal growth, the track combines electronic elements with organic instrumentation that transcends beyond Yoke Lore's indie genre. His acclaimed discography thus far includes standout singles such as "Goodpain," "Chin Up," and "Beige," which earned him an RIAA Gold certification. With over 450M+ streams to his name and tours across the globe under his belt, including a recent run with Goth Babe, Yoke Lore has garnered a loyal fanbase and widespread acclaim from both critics and fellow musicians alike and established himself as a notable force in the indie scene.
In August, Yoke Lore will embark on the 23-date Holy Havoc Tour, which sees the artist playing dates from coast-to-coast, including Music Hall of Williamsburg and Brooklyn and The Fonda Theatre in Los Angeles. Tickets are on sale now at www.yokelore.com
In The Throes [Indie Exclusive Limited Edition Autographed Seaglass Blue LP]
$31.98 36.98
After forty years of marriage, Buddy and Julie Miller have learned to welcome a song however it arrives, questioning only where the song is taking them rather than where it originated. There's no process, no assembly-line procedure, just an openness to those bursts of inspiration and those hours of refinement, which means their fourth album together, In the Throes, sounds lively and diverse, eccentric and slightly askew: a deeply soulful collision of mournful gospel, dusty country, cosmic blues, lusty rockabilly, ecstatic r&b, and anything else that crosses their minds.
Southern Star [Indie Exclusive Limited Edition Coke Bottle Clear LP]
$23.98 27.98
The American south isn't just Brent Cobb's home. It's his muse, too. A Georgia native, he fills his Grammy-nominated songwriting with the sounds and stories of an area that's been home to southern rockers, soul singers, country legends, and bluesmen. Cobb has a name for that rich tapestry of music — "southern eclectic" — and he offers up his own version of it with his newest album, Southern Star. 

"Down here, there's a lot going on and there's nothing going on at the same time," he says. "You've got all these different cultures in the south, and everything is mixed in together. Otis Redding and Little Richard were from the same town in Georgia. So were the Allman Brothers. James Brown and Ray Charles grew up right down the road. All these sounds reflect the South itself, and that music has influenced the whole world. It's definitely influenced mine."

Filled with country-soul songwriting, laid back grooves, and classic storytelling, Southern Star distills the best parts of southern culture into 10 of the strongest songs in Cobb's catalog. He began writing the material after leaving Nashville — where he spent a decade releasing solo records like 2016's Shine On Rainy Day (which earned a Grammy nomination for Best Americana Album) while penning hit songs for Luke Combs, Miranda Lambert, Little Big Town, and dozens of others — and returning with his family to Georgia. It was a time of change. Not long after celebrating the arrival of his second child, Cobb found himself mourning the death of his longtime friend, Jason "Rowdy" Cope of The Steel Woods. 

"Rowdy was like my older brother," says Cobb, who named Southern Star in part after a small-town bar that he and Cope used to frequent. "He loved the music that came out of Georgia, and he helped me appreciate it even more. A lot of artists like to branch out and become experimental as their career continues, but I sort of go the opposite way. I feel like I can never go wrong if I continue to get closer and closer to the core of who I am and what I love, musically. Coming back to Georgia helped me with that. Southern Star is the sound of me getting closer to the source."

Don't let Cobb's breezy songs about rural life fool you. There's some serious complexity lurking beneath the surface. At first glance, "It's a Start" unfolds like the soundtrack to a leisurely afternoon in the south, with Cobb singing the praises of crawfish, barbecue, and day-drinking. Dig deeper, though, and the song reveals itself to be something more universal: a reminder to appreciate the small things in life, stay mindful, and chase down new horizons at your own pace. To Cobb, there's something distinctly southern about that message, too. "Sometimes, there ain't shit going on down here," he says with a laugh, "but since there's nothing else to do, you learn to be laid back. You learn to use your imagination, and you wind up imitating your surroundings. These songs sound like the place that inspired them. On 'It's a Start,' when the organ comes in, it reminds me of the sound of the cicadas and frogs you hear in the springtime."

Cobb doesn't just imitate his surroundings with Southern Star. He immerses himself within them. To record the album, he headed to Macon and set up shop at Capricorn Sound Studios, where artists like the Marshall Tucker Band, Charlie Daniels, and Percy Sledge once roamed the halls. "I decided to use all local musicians," says Cobb, who self-produced the album with help from Oran Thorton. "I wanted Southern Star to shine a light on the southern players who are still living and working in Macon. Everyone on the album is a Georgia native apart from Jimmy Matt Rowland, who plays keys, and Oran Thornton, my engineer and co-producer. That's it. I wanted to capture that 'southern eclectic' sound on this album, and I don't think you can capture it without being in it."

Eclectic, indeed. Track like "Devil Ain't Done," "Livin' the Dream," and "On't Know When" dish up greasy servings of country-fried funky-tonk, while "Patina" and "Kick the Can" evoke the unhurried sounds of 1970s folk music. "When Country Came Back To Town" even shifts its focus to Los Angeles (where Cobb recorded his indie debut, No Place to Leave, with producers Shooter Jennings and his own Grammy-winning cousin, Dave Cobb) and Nashville. The song is a salute to the unsung heroes of the music communities in both cities, laced with shout-outs to Nikki Lane, Hayes Carll, and others. "It's about the friends I've made along the nearly 20-year-old path it's taken for the independent country movement to grow into what it is today," he adds. 

During the months leading up to Southern Star's release, Cobb spent much of his time on the road, playing to stadium crowds of 60,000 people as Luke Combs' opening act. Perhaps that's why Southern Star feels so well-timed. Not only is it a snapshot of an artist at the peak of his songwriting abilities; it's also a love letter to his southern roots, made all the more potent by his recent travels. 

"You know how when you're growing up, you're told that if you ever get lost out there, look for the northern star to help find direction back home?" he asks. "Well, I'm from Georgia, so I always look for the southern star. This album, the songs, the sounds… they're all a product of where I'm from, both musically and environmentally. Historically and presently, that area also happens to be the same place that cultivated a good many of the most influential artists in the whole world of music. Music as we know it would not exist without the American south. It's funky and sentimental. It's simple and complex."

With Brent Cobb, the southern star shines on. 
UNFORGIVEN [Limited Edition A] [CD+Photobook]
$14.98 17.98
LE SSERAFIM will be releasing their 2nd Japanese single, UNFORGIVEN. Along with the lead song "UNFORGIVEN – Japanese ver." The single will also feature the Japanese version of "ANTIFRAGILE" and one Japanese original track.

Limited Edition A Packaging: The Limited Edition A (CD + Photobook) includes a slipcase, a 32-page photo booklet, 1 selfie photocard (randomly enclosed out of 5) and an 8-page lyric booklet.

Matteo
$13.99 16.99
Five years after his first single release – "Fall on Me" with Andrea Bocelli – and two years after he stepped into the spotlight with his own first single "Solo," Matteo Bocelli will release his debut album Matteo on September 22, 2023. The 12-track album showcases a mix of songs in English and Italian, with writing and production contributions from Ed & Matthew Sheeran, Jesse Shatkin (Miley Cyrus, Sia, Kelly Clarkson) and Stuart Crichton (Kesha, Backstreet Boys). CD Softpak.
Surfacing [LP]
$26.98 31.98
Surfacing is the fourth studio album by Canadian singer-songwriter Sarah McLachlan. Released in July 1997 to coincide with the start of her Lilith Fair tour, the album became an iconic piece of McLachlan's discography. This award-winning album includes the hits "Angel", "Adia" and "Building A Mystery".
Anches En Maat [LP]
$27.98 32.98
Anches En Maat is the first new album from Grails in over a half-decade – following the masterful Chalice Hymnal in 2017 – and their first album recorded with all members in the studio together since Doomsdayer's Holiday in 2008. With every Grails album released since Doomsdayer's Holidaybeing a sprawling double-album endeavor, Anches En Maat was conceived as a return to the comparatively efficient single LP runtime. With that, Grails set out to craft the same sonically dense world that their longer albums showcased, while trading singular indulgences for live collaborative interplay.
Wallsocket [2LP]
$33.98 38.98
"Wallsocket is a loose concept album about the American town of Wallsocket and the people that live in it. I first started making music purely on the computer, so my challenge for this album was writing the songs acoustically first and adding production afterwards. A lot of the themes of the project can be summed up by taking something natural and trying to sterilize it.
At the time of writing, I was obsessed with using the 'horseshoe theory' in an apolitical context. Where in our lives are we so one thing that we wrap back around and become its opposite? That theory is riddled throughout the album." - underscores
The Spot Rocker (Bonus Track) [LP]
$26.98 31.98
Groundbreaking Brooklyn MC Sensational returns with a new album produced by veteran Calgary producer The Dirty Sample. For this unique collaborative experience, The Dirty Sample serves up a selection of his dusty, cinematic beats for Sensational's distinct chunk 'o bliss swagger, his delivery both laidback and stylin. Joining Sensational on The Spot Rocker are Ol' Gorilla Bones and Hawd Gankstuh Rappuh MCs Wid Ghatz members Guy Albino and Flybot Van Damn.
VIEW COMPLETE LIST
Music Releases 02-23-24
Sound & Fury [White/Black Marbled LP]
$32.98 37.98
DUST BOLT are returning with their new modern metal album SOUND & FURY with an huge impact of Thrash Metal vibes, heavy guitars, rolling drums and true metal vocals! The band is known for their clear statements and their great commitment, for example, they support Fridays for Future.


VIEW COMPLETE LIST
Music Releases 02-16-24
Be Right Here [Indie Exclusive Limited Edition Golden Birdwing LP]
$24.98 24.98
Hailed as "the reigning heavyweight champions of Southern rock" (No Depression), Atlanta-based quintet Blackberry Smoke is back with their 8th studio album, Be Right Here, produced by Dave Cobb. Be Right Here follows 2021's You Hear Georgia, which was the best-selling Country and Americana/Folk album in the country, entered at #7 on the Billboard Rock Albums chart and #4 on the Billboard Top Albums chart. Released to critical acclaim, No Depression praised the band for being "as much students of singer-songwriter-folk and outlaw country as they are of jam-based, chest-pumping rock," " while Guitar World declared "Many try to reproduce that holy grail, golden-era-of-classic-rock sound through their six-string escapades, yet only a handful ultimately succeed. One such band who succeeds in spades is Blackberry Smoke, whose most recent album You Hear Georgia serves up 10 tracks of pure rock 'n' roll bliss."

In addition to Blackberry Smoke—Starr (vocals, guitar), Richard Turner (bass, vocals), Brit Turner (drums), Paul Jackson (guitar, vocals) and Brandon Still (keyboards)—the album also features background vocals from longtime collaborators The Black Bettys.
VIEW COMPLETE LIST
Music Releases 02-02-24
Music Box: 30th Anniversary Expanded Edition [4LP]
$103.98 103.98
A 4-LP set, Music Box: 30th Anniversary Expanded Edition presents the original album Music Box in its entirety on Disc One with the noteworthy addition of "Everything Fades Away" (previously available only as an international bonus track).  Discs Two and Three premiere a variety of previously unreleased tracks including "Workin' Hard,""All I Live For (Extended Version),""My Prayer,""Hero (2009 Version),""Anytime You Need A Friend (Extended Mix,") "Music Box (A Capella)"and two live performances from Top of the Pops: "Dreamlover"and "Without You." Disc Two also includes Mariah Carey's duet with Luther Vandross on "Endless Love"as well as two brand new remixes from Grammy Award nominated DJ Terry Hunter: "I've Been Thinking About You"and "Workin' Hard."  Disc Four, "Mariah Carey Live at Proctor's Theater, NY - 1993" presents Mariah's complete showcase for the first time and features eight previously unreleased concert performances.  (The Proctor's Theater performances of "Hero"and "Dreamlover"are the only two previously released tracks from the concert.)
VIEW COMPLETE LIST
Music Releases 01-26-24
Some Of It Was True [Indie Exclusive Limited Edition Strawberry Shortcake Splash LP]
$26.98 31.98
Strawberry Shortcake Splash LP (Indie Exclusive). The Menzingers are an absolute institution. The Philadelphia punk legends' multi-decade reputation as road warriors with an unbeatable catalog is cemented as hard truth-and their seventh album, Some Of It Was True, stands as their most immediate-sounding and energetic record to date. The follow-up to 2019's sensational Hello Exile accomplishes the daunting task of capturing the Menzingers' distinctive live energy in the confines of the studio, resulting in a sound that's both rich, raw, and complementary to the group's increasingly prismatic songwriting approach. More than 15 years in, the Menzingers are still holding their listeners square in the immediate present, and Some Of It Was True documents that power in thrilling fashion.

"We wanted to make a fun record and write songs that we wanted to play live, and that's exactly what we did," co-vocalist/guitarist Greg Barnett says "We've always said that we want every album to sound live, but we never recorded an album live before. This was the first time we committed to that idea. We wanted to sound like how our band sounds onstage." Making the process easier: Grammy-nominated producer Brad Cook (Bon Iver, the War on Drugs, Waxahatchee), who joined the Menzingers in El Paso's legendary Sonic Ranch studios and lent his incredible ear for raw, immediate sound to help the band achieve Some Of It Was True's in-the-room live feel. "The Menzingers are as real as it gets," Cook says on his time in the studio with the band. "I had an absolute blast working with these guys and was moved to tears many times. They are truly dedicated to artistic growth, and to each other, in ways I found both refreshing and beautiful. I am now a lifer."
Lola [Translucent Sea Blue LP]
$29.98 34.98
Goth Babe is Griff Washburn enjoying himself. Originally from Tennessee,Griff currently lives full-time on a 36ft off-grid sailboat named LOLA. He's exploring the coast of Mexico with his dog Sadie, catching fish, surfing, and writing/recording his debut project LOLA which will see an album, short-film and headline tour of the same name.
Polaroid Lovers [Indie Exclusive Limited Edition Blue & Green Splatter LP]
$25.98 25.98
Polaroid Lovers is the 7th studio album from four-time GRAMMY winner Sarah Jarosz. Produced by Daniel Tashian, Polaroid Lovers is a bold creative statement that sees Jarosz exploring new sonic territory. The 11 songs on the album, all co-written by Jarosz with songwriters including Tashian, Jon Randall, Ruston Kelly, and Natalie Hemby, touch on themes both personal and universal: love, longing, and finding one's place in the world.
In The Midst of You [Indie Exclusive Limited Edition White LP]
$30.98 35.98
Liverpool's acclaimed sensual existentialist Brad Stank today announces the release of his resolutely romantic new album In The Midst of You on January 26th via his new label Sunday Best Recordings. He launches the album alongside the quintessentially Brad 'Natty Wine' and its accompanying video. The new single 'Natty Wine' neatly encapsulates the many charms that emerge throughout the album. With Brad backed by soulful female vocal harmonies, the song's jazzy psychedelia possesses a touch of twanging Americana, its warm and vibrant live instrumentation making for a song as relaxed as a Sunday afternoon in the sun. It's also notable for featuring Brad's favourite percussive instrument deep in the mix: a wooden frog. He adds, "This is a tongue-in-cheek song I wrote after being gifted a bottle of natural wine by a friend. I'm a working-class boy who would much rather drink shitty lager at a party, like Stella or Holsten Pils. I've got no right to be writing a song about natty wine but I was feeling bougie. It's a love song in disguise, I liked the imagery of lyrics like, 'Your sweet loving just keeps dripping from the vine.'" In The Midst of You finds Brad in late night lothario mode, his previous seductive style now taking a more resolutely romantic and perhaps surprisingly spiritual direction. The phrase "in the midst of you" comes from the Bible, Zephaniah 3:17, "the full quote is something along the lines of "God is in the midst of you" - basically meaning that you have to look inward for peace or enlightenment, etc. the album is about that in parts and also, as always, I tried to put a romantic twist on it so that the "in the midst of you" is about being in love with somebody. It's kind of a juxtaposition but I've always enjoyed taking spiritual messages and giving them a double meaning, explains Brad. "Hopefully it's a positive message of prostrating yourself to somebody, or to spirituality or something - but giving yourself fully to something, being in the midst…"
Spiel [Indie Exclusive Limited Edition Clear Violet LP]
$25.98 25.98
Introducing Office Dog, hailing from Otepoti/Dunedin and residing in Tamaki Makaurau/Auckland. The trio, led by Kane Strang on guitar/vocals, alongside Rassani Tolovaa on bass and Mitchell Innes on drums, present their debut album Spiel — out January 26, 2023 via New West Records Records. Assembling intricate musical collages, Office Dog fearlessly explore the depths of complex emotions through layers of tension, release, and celestial lyricism. 

Office Dog formed in 2021. Amidst a busy solo career, front-person Kane Strang sought a more collaborative musical outlet. He teamed up with fellow musicians and previous collaborators Mitchell Innes and Rassani Tolovaa, and the trio began writing together across various locations in Tamaki Makaurau/Auckland. Over the next year, fragments began assembling into songs, ultimately culminating in the creation of Office Dog's debut full-length album, 'Spiel', recorded in collaboration with producer De Stevens at Roundhead Studios and mastered by Jonathan Pearce (The Beths). 
VIEW COMPLETE LIST